School Site
It's been incredible to see our Leeds school become a reality so quickly. It won't be long before the floors are poured and we can start to climb the stairs. If you'd like to see the building process from concept to concrete, keep an eye on this page. We can't wait to see the finished result and start inspiring pupils in 2021!
April - Drone Footage
Take a 360-degree tour around our building site and get a peek at all the progress we've been making.
April - Windows
We officially have windows! Our TAL team took a visit to our building site and got to take a look at the views our new school has to offer.
March - Drone Footage
Check out the incredible progress we're making on our building site. We are getting so excited to start adding some TAL colours and seeing it all come together. 
February - Building Site Update
Take a look at our latest drone footage. We love that you can see some of our TAL dream team working hard to get this project completed
February - CEO & Governors Tour!
Last week, our Principal took our Governors & MAT CEO, Michael Gosling, on a tour around our new school. We had a great day showing everyone our plans for the interior of the building.
February - We Have Walls!
This was an incredible moment as we watched our NEW secondary school building come to life. A HUGE thank you to our building team who have worked in the rain & snow to keep this project moving so quickly.
February - TAL Team Climbing the Stairs
We absolutely love these pictures of our TAL team touring our building site. Everyone was incredibly excited to climb the stairs as we considered the decoration and detail of our NEW school… 3 floors of possibility!
January - Roof
We love this picture of the sun shining down on our building site. We are so excited for September 2021!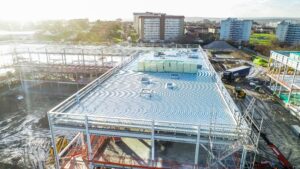 January - First Bit of Roof
Take a look at this drone footage from the end of January! You can now see the first bit of roof… exciting.
January - It's All in the Details
We've been busy focusing on some of the interior design details of our NEW school! Check out the chair colours that we picked out earlier this week. They're sure to give each classroom a much-needed pop of TAL colour.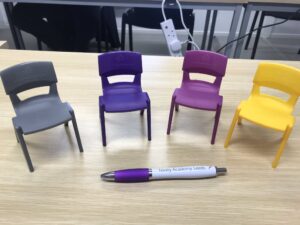 December - More of the Frame Is Up
Check out the progress we're making on our NEW school site with this drone footage! Even more of the frame is up and the overall outline of the school is far more visible. 
November - Signing the Frame
What a great moment! We love this picture of our Principal and Vice Principal signing the frame of our NEW Leeds school to commemorate the first big step in our build. Our motto will forever be within the foundation of our school.
November - The Steel Frame Is Up
We're incredibly excited to see the frame of our new school. We can't wait to open our doors in 2021 & meet our incredible founding cohort of Year 7 students!
November - A BIG Thanks to Our Team!
We'd just like to give a HUGE shout-out to the brilliant builders who are working to get our school ready for 2021. They've made us all smile each time we visit the site & are a brilliant part of our TAL team!
October - The Outline of Our School Is Now Visible
We are so pleased to share that the outline of our Leeds school is now visible! We've also had some great discussions about our all-weather 3G pitch & the exterior of the building.
September - Building Has Started
Construction work on our building site is now in full force! We love the picture of our Principal, Kat Cafferky, holding the boots that site team gifted to her, how lovely! She'll be dressed to impress next time she visits.
Drone Footage
Check out this incredible drone footage from our building site & get a peek at how much progress we're making!
Architect's Impressions
Take a look at these architect's impressions of the school site and buildings to give you an idea on how Trinity Academy Leeds will look when complete.
Aerial view of the main school building
Entrance viewed from the car park
Green spaces surrounding the school